The snake eating its own tail, or Ouroboros, has symbolized many things over the ages, but generally represents ideas of recreation of self, unity, and infinity. The ouroboros has been important in religious and mythological symbolism world wide. The Ouroboros appeared in Ancient Norse mythology as Jörmungandr, one of the children of Loki, who grew so large that it could encircle the world and grasp its tail in its teeth.
Details: The Ouroboros Ring is sterling silver with a black antiqued finish. The ring measures 7 mm wide at the snake's head and 3 mm wide at the back of the band. The ring weighs approximately 6.2 grams, weight will vary with size. The underside of the snake's head is partially carved out to reduce weight. The inside of the band is stamped with our makers mark, copyright, and metal content.
Size Options: The Ouroboros Ring is available in US sizes 5 to 20, in whole and half sizes. Sizes 13.5 and larger are an additional $15.00.
The Ouroboros Ring is also available in 14k Gold.
Packaging: This item comes packaged in a ring box.
Production: We are a made-to-order company. Your order will ship in 5 to 10 business days if the item is not in stock.
We have been making these rings before we had the Wheel of Time licensing.
---
Customer Reviews
12/21/2020
Paul T.

United States
It's perfect!
Very easy and fast shipping
11/09/2020
Caitlinn A.

United States
Gorgeous!
So, I absolutely love Badali Jewlery! Mostly because of my love of books and jewlery, so Badali is absolutely a perfect place for me to buy and showcase my love for both. My most recent purchase, the ring is gorgeous and I do wear my ring basically all day, except for showering and such. So the quality and durability has been tested and it is great! I also got a free Blood Moon Coin, which is amazing too! I can't wait to check back and see what new jewlery you guys will have next! Most especially some more Cosmere or Stormlight Archive jewlery! Thanks again!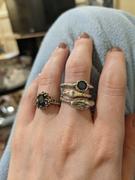 01/07/2020
Leanne c.

United Kingdom
I spent a long time looking for the perfect Ouroboros!
And this was the best one I've seen, gorgeous detail, beautifully made. Thank you for getting it to me so quickly in time for Christmas.